SDL Property Auctions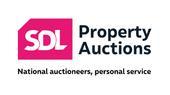 We work on a seven day referral payment turnaround from sale, meaning you can plan your cashflow more clearly. With a minimum return of £2,500 for every property referred and sold with us, you can relax knowing when and how much capital you can release at any given time. What's more, partnering with us comes at no cost and our offering is white-labelled so you can continue to drive your own branding.
UK's most successful live-streamed property auctioneer
When a property is referred to us, we'll save you time and resources by looking after:
Pitching and pricing
Contract signing and legal packs
Viewing feedback, negotiating and sales progression
Taking the non-refundable deposit from the buyer
Promoting the property with you on our marketing channels
Conducting the auction, live or online
Here's how we can help your customers:
A fast, faff-free sale with fixed timescales and completion dates
Less than one per cent fall through rate
No estate agency fees to pay
The maximum price in today's market, through transparent and competitive bidding
Offer to members

Propertymark members will get a personalised press release to distribute locally to promote your new white-labelled auction department, alongside the free white-labelled microsite and collateral. Ongoing customer and agent support for property auctions will also be provided.
---