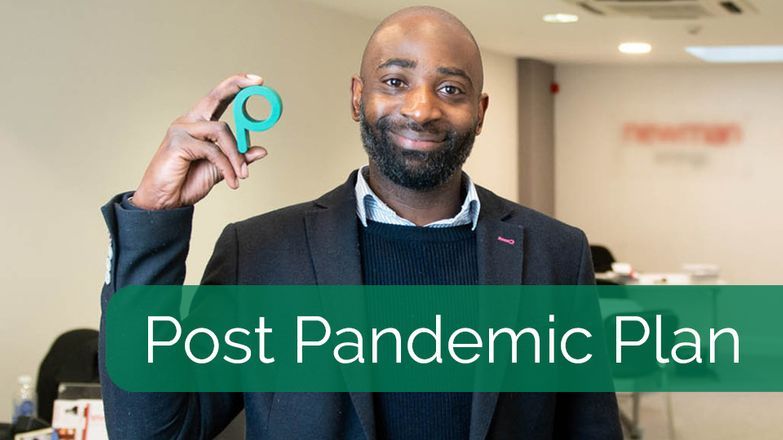 It's becoming clear that social distancing rules will need to stay in force for some time, even after people are allowed to return to life outside their home. Current office setups may not provide the social distance that is required, particularly given that most offices are open plan. This is even more true in customer-facing businesses such as property agencies.
Risk assess now
A detailed risk management approach will help to safeguard employees and customers. It is essential to base any plans for returning to the work on up to date Government public health guidance in relation to COVID-19.
Prepare your office
There are concepts like the 'six feet office' where office design enforces social distancing through desk space, technology, and work systems, which are starting to take shape. Look at the floor plan of your premises, and see where you could add space, lights, ventilation, or screening.
Your office will have likely been empty for several weeks and, therefore, will require a good deep clean regardless of whether this is due to Coronavirus or just abandonment. Cleaning should be done before the staff return and should cover all areas of the premises. Make sure you have ample cleaning products and make these readily available on each desk, and to visitors. Clean all high touch points regularly.
Some practical steps agencies can take now are:
Space desks and change the office layout so desks do not face each other but are side by side.
Communal spaces like break rooms - small spaces may need a 'one in one out' approach, better ventilation, or closing altogether.
Implement two-metre distance markers where clients may gather to wait.
Install Perspex screens on customer-facing desks.
Implement a clear desk policy and e-filing for both hygiene reasons and business continuityProvide hand sanitiser for your staff and customers.
Leave internal doors (not fire doors) propped open, and clean high-touch areas regularly.
Use two-metre distancing markers in public areas of the branch – markers like stickers or posters may be better than barriers that are imposing and will require continual cleaning.
Consider locking the door of your branch and allowing people in small groups with signage to communicate this with the public.
Tell your customers what you're doing to protect them - visual elements like distance markers, screens, and hand sanitiser will be obvious, but information on how the business is handling cleaning, appointments, and meetings will reassure clients that you're doing everything you can to keep them and your staff safe.
Reduced staff in the office
Consider if employees can work remotely cutting down the number of people in the office to keep the safe distancing rules. If you have employees who are amenable to working from home, it may be possible to split your workforce into home and office working, alternating days.
PROPERTYMARK POST PANDEMIC PLAN
Propertymark's Post Pandemic Plan articles support agents with their preparations to emerge from the Coronavirus lockdown and prepare them to maximise market potential, add value, and underpin their business.