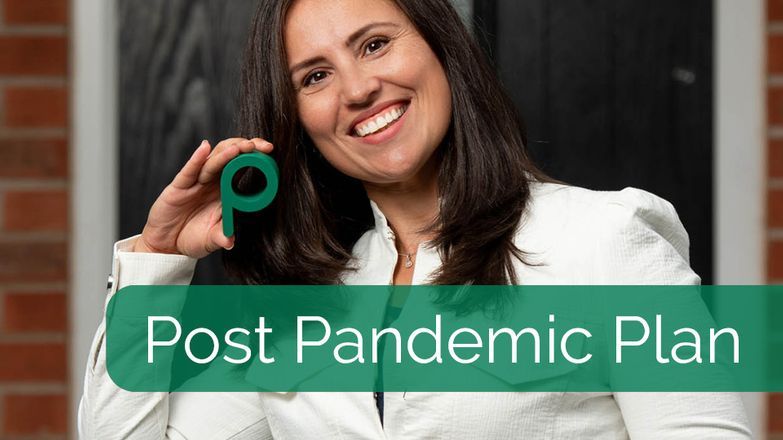 In light of the recent Government update on lockdown measures giving estate and letting agents the green light to conduct viewings in England, where communication online isn't possible, now is the time to move agencies onward and upward to stand them in good stead in general but even more so if the industry is faced with a second stay at home measure.
Agents should be using this time to reflect on their businesses and shine a light on areas that could need a little TLC or a shift in a different direction.
Video viewings
Video viewings and online communication should be an agency's default method when letting or selling a property at this time unless communication physically cannot be done online. Agents should safely, following Government guidelines, film properties that did not have video viewings available prior to the lockdown measures for the industry being lifted. This will also stand agents in good stead if these measures are put back in place and viewings are postponed once again. For tips on video viewings register to watch Propertymark's Offering and Conducting 360 Viewings webinar hosted by Martyn Baum.
Agents don't need to stop at viewings when it comes to video – it can help to improve websites, social media and much more. To find out some best practice tips on video, register to watch Propertymark's Video Everything webinar hosted by Ben Sellers.
Build your email lists
Take time to filter contacts into focused groups. No other marketing or communication technique gives the opportunity to direct conversations to specific audiences like email lists, so use this time to perfect and enhance them.
If unaware of GDPR in terms of data held, Propertymark has a series of bitesize guides to assist in being compliant.
Adapting processes
Now more than ever, agents must keep up to speed with the fast-changing use of technology and look at ways to adapt and keep in tune. This could include training staff in online software to maximise existing platforms and be more innovative, or ensuring websites offer visitors the information and functionality they're after. Surveying current customers to find out more about their experience and accept criticism as this is what strengthens a business.
Training staff to use the Property Information Questionnaire, which is part of the Sales Protocol Toolkit at this time and implementing and adopting it will see agents reaping the benefits. It is designed to speed up the buying and selling process, increase cash flow and commission, giving transparency and certainty as well as winning instructions.
For market and brand research information, including surveying customers, website analytics, and researching the wider market and your competitors read our article Post Pandemic Plan: Why market and brand research are so important.
Blogs
Blogs are a perfect opportunity to voice the ethics, humour, and tell the story of who you are as an agency. Blogs work much better than canvassing, customers or potential customers will not only come away from a blog knowing more about what you stand for but will receive valuable tips and information along the way.
In other methods of communication, longer is not always better, but with blogs it most certainly is. Google loves 1000 words plus in terms of optimising your search, and statistics show so do customers. Use these words to tap into potential and current customers by looking into hot topics and putting your own stamp on them.
Try using a quick snip video as a Facebook cover photo, instead of a static image and link through to a recent blog. Users love to see video content and having topical blogs as the first things they see, viewers are more likely take a read.
Issues when working from home
Did any of staff members have issues when working from home? If so, analyse these problems and take the appropriate steps to rectify them in case stay at home measures are re-introduced. These could have included equipment, Wi-Fi signal, or connection problems.
Perfect your office
Considering the Government's guidelines, is there anything else agencies could be doing to further protect the health and safety of staff and customers when working in the office? The majority of agents will now be armed with new processes and equipment that address the health issues the Coronavirus presents, including PPE, desk layouts, sanitising products, and Perspex screens but what else could be considered? Other options could include:
Disposable mats (e.g. large sheets of paper) to layout on shared desk spaces to limit contact with the surface they're working on.
Anti-bacterial spray in communal areas e.g. restrooms, kitchens.
Divide staff into 'groups' or 'shifts' that do not mix with other staff.
Consult with staff and managers about current measures as this may highlight areas of concern and/or solutions, which have not been identified in risk assessments.
Continue to improve new, regular, and thorough cleaning rotas.
Offer channels for support and two-way communication. Create a space for staff to reach out with their concerns and accommodate specific needs.
Social media
Given the current time's agents are faced with, social media plays an even bigger part in a successful business than ever before. Agents should take the time to research their audiences and look at channels as an opportunity to online network.
How we all communicate and what channels we use has shifted. This is the time for agents to use alternative methods to tell audiences the story of their business and highlight their fundamentals. Read our tips on social media in Propertymark's Post Pandemic Plan: The current power of social media article or register to watch a recording of Propertymark's recent Social Media Engagement webinar hosted by Martyn Baum.