TDS: tenancy deposit protection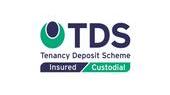 We currently protect over 1.6 million deposits across England and Wales and offer a free dispute resolution service, TDS Resolution, which helps to avoid unnecessary court hearings by working with both parties to achieve a satisfactory outcome to tenancy disputes and rent arrears.
We pride ourselves on delivering outstanding customer service to all our clients and have won independent recognition with a range of awards and accolades including the Customer Service Excellence Standard. We are consistently the highest-rated tenancy deposit scheme on Google and Trustpilot, too.
It's easy to join TDS
This video provides a brief overview of the two schemes: TDS Insured and TDS Custodial.


0300 037 1000

Offer to members

As a Propertymark member, you will receive our very best rates for Insured tenancy deposit protection. Find out more at: exclusive TDS rates for Propertymark members.
We've vetted all our Propertymark Industry Suppliers, hand-picking the ones that will directly benefit you. Share in the expertise of our suppliers as they offer up their knowledge on a variety of topics through the webinars we host.
TDS guides
Whether new to tenancy deposit protection or simply want to know more about the process, it helps to understand the lifecycle of deposits to avoid penalties and disputes. Debbie Davies, Head of Sales at TDS, explains seven steps every agent should be aware of.
Debbie Davies, Head of Sales and Client Success at TDS explains it's all in the detail when it comes to tenancy deposits, the more information that is collected and provided the better.
This guide considers best practice from a deposit dispute adjudicator's view, irrespective of who prepared the inventory, check-in or check-out report presented as evidence.
---