TDS: tenancy deposit protection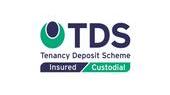 TDS Resolution
We offer a free dispute resolution service via professional, impartial adjudicators to help avoid unnecessary court hearings and resolve any disputes that may arise between landlords, agents and tenants.
We invest in our technology solutions to simplify the deposit process and improve the user experience for our customers. Find out more about our time saving API solution.
We pride ourselves on our award-winning customer service, saving letting agents and landlords time and money with calls and emails answered quickly with a personal and professional approach. TDS understands that time is money, and at TDS we save agents, landlords and tenants time.
TDS Academy
We provide invaluable training in tenancy deposit protection and disputes for agents and landlords through the TDS Academy. Alongside this, we deliver Propertymark's course Disputes and damages the TDS way, as well as partnering with Propertymark Qualifications and MOL to provide the Award in Residential Tenancy Deposit Protection and Management.
It's easy to join TDS
This video provides a brief overview of the two schemes: TDS Insured and TDS Custodial.


0300 037 1000

Offer to members

As a Propertymark member, you will receive our very best rates for Insured tenancy deposit protection. Find out more at: exclusive TDS rates for Propertymark members.
Want to find out more? Book a demo with one of our Sales Executives to start your switching journey today.
We've vetted all our Propertymark Industry Suppliers, hand-picking the ones that will directly benefit you. Share in the expertise of our suppliers as they offer up their knowledge on a variety of topics through the webinars we host.
TDS guides
Whether new to tenancy deposit protection or simply want to know more about the process, it helps to understand the lifecycle of deposits to avoid penalties and disputes. Debbie Davies, Head of Sales at TDS, explains seven steps every agent should be aware of.
Debbie Davies, Head of Sales and Client Success at TDS explains it's all in the detail when it comes to tenancy deposits, the more information that is collected and provided the better.
This guide considers best practice from a deposit dispute adjudicator's view, irrespective of who prepared the inventory, check-in or check-out report presented as evidence.
---