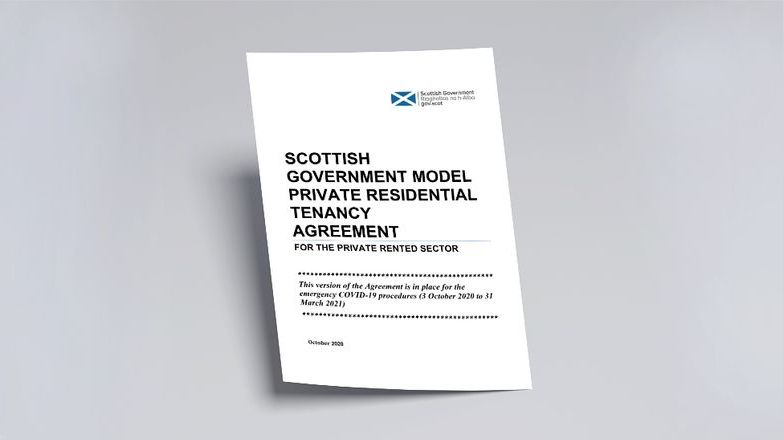 Tenancies in Scotland
The PRT removed the 'no-fault' eviction option available under the old Short Assured Tenancy to minimise disruption to tenants' lives. Tenants can now live securely in their homes without fear of eviction at short notice once the tenancy reaches its end. The Scottish Government published the PRT agreement, together with accompanying prescribed notices and forms.
This version of the form is in place for the emergency Covid-19 procedures from 3 October 2020 until 31 March 2021.
Forms and guidance including notices to leave and rent increases in relation to the Private Residential Tenancy. The versions of the forms listed are in place during the emergency Covid-19 procedures until 31 March 2021)
Creating your own contract
You can still create your own contract but you must include nine mandatory tenancy terms and make sure you fully understand the Private Housing (Tenancies) (Scotland) Act 2016 and any supporting legislation. It's therefore advisable to use a solicitor.
If you are creating your own contract you need to be aware that clause 2 on rent increases, clauses 6–8 on access for repairs and clause 9 on termination in The Private Residential Tenancies (Statutory Terms) (Scotland) Regulation 2017 differ slightly from the equivalent sections in the Model Tenancy Agreement and this must be reflected in your agreement.
If you create a contract yourself, you will also need to provide the tenants with the Private Residential Tenancy Statutory Terms Supporting Notes instead of the Easy Read Notes.
Bringing the tenancy to an end
Tenants can bring the tenancy to an end by giving the landlord at least 28 days' notice, taken from the time the landlord receives the notice. Landlords or their letting agents will only be able to bring a tenancy to an end by serving a Notice to Leave. This relies upon one of the 18 grounds for eviction.
The Notice to Leave is a legal document which tells a tenant they must vacate a property. During the coronavirus pandemic you cannot evict tenants in Scotland for up to six months in most cases.
Joint tenancies
After it's introduction, feedback on the PRT uncovered that tenants found the changes harder to adjust to than landlords or agents. The PRT has implications for joint tenants where only one joint tenant wants to leave; without notice from the other joint tenants, the PRT continues along with all tenants's liability to pay rent etc. This could in theory be indefinite so as a result we sought expert opinion through legal counsel.
Since the introduction of the Private Housing (Tenancies) (Scotland) Act 2016, agents have had to adapt to working with the new Private Residential Tenancy (PRT) and get to grips with what that means for them on a day to day basis. One issue that was raised as a potential problem was how to deal with joint tenancies under a PRT where one tenant wants to leave.
FAQs from our members
When do I need to create a PRT?
Any new residential tenancy agreement that commences on or after 1 December must be on a PRT if it is let to an individual (or joint tenants) who are occupying as their only or main home and it is not one of the excluded properties (found in schedule 1 of the Private Housing (Tenancies) (Scotland) Act 2016). Excluded properties include shop premises, licensed premises, agricultural holdings, holiday let or resident landlord situations.
Can agents sign the PRT on behalf of the Landlord?
Yes, this is acceptable.
Do I still need to issue a tenant information pack?
No but the tenant still needs to receive information about the property regarding the safety standards such as the EICR and EPC.
What happens if the tenant doesn't move out when the notice period ends?
Landlords or their agent can then apply for an eviction order via the First-tier tribunal if the tenant does not move out as soon as the notice period ends.
Increasing rents and additional charges
Landlords won't be able to increase rents for properties they own more than once in any given year. Tenants must also be given a least three months' notice of any planned increase, using the 'landlords rent-increase notice to tenant(s)' form. Besides the rent itself, the only additional charge you can make to a tenant is security deposit of no more than two month's rent.
Tenants have the right to have the rent assessed by a Rent Officer if they feel that the increase is unfair. It should be made clear that Rent Officers also have the power to increase the rent if they feel it should be higher. They need apply within 21 days of notification by the landlord and must tell their landlord by completing Part 3 of the landlord's rent-increase notice to tenants(s) form.