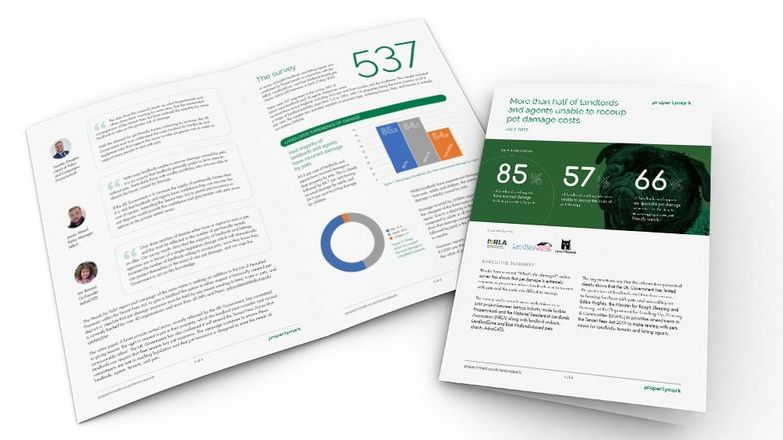 The survey and research were undertaken as a joint project between lettings industry trade bodies Propertymark and the National Residential Landlords Association (NRLA) along with landlord website, LandlordZone and East Midlands-based pets charity AdvoCATS.
The organisations say that the information presented clearly shows that the UK Government has limited the protection of landlords and therefore access to housing for those with pets and are calling on Eddie Hughes, the Minister for Rough Sleeping and Housing, at the Department for Levelling Up, Housing & Communities (DLUHC) to prioritise amendments to the Tenant Fees Act 2019 to make renting with pets easier for landlords, tenants and letting agents.
Tenant Fees Act
Add to the List of Permitted Payments
The Heads for Tails! report and campaign of the same name is seeking an addition to the List of Permitted Payments within the Tenant Fees Act, to give a landlord the option to either request a financially capped pet deposit or stipulate that pet damage insurance must be held by any tenant wanting to keep a pet or pets, and is currently backed by over 40 organisations and more than 40 MPs and Peers: advocatseastmids.org.uk/westminister
The white paper A fairer private rented sector, recently released by the UK Government, has committed to giving tenants 'the right to request a pet in their property, which the landlord must consider and cannot unreasonably refuse'.
The UK Government has also confirmed it will amend the Tenant Fees Act so landlords can request that their tenants buy pet insurance. The campaign continues to ensure these commitments are met in the resulting legislation and that pet insurance is designed to meet the needs of landlords, agents, tenants, and pets.
Vast majority of landlords and agents have incurred damage from pets
85.3 per cent of landlords and agents have incurred damage to their property by pets. This is closely followed by 84.7 per cent having incurred damage by adults and 54.9 per cent incurring damage by children. Whilst landlords have experienced damage from pets, adults and children, pets mainly cause the extent of the damage.
Download the full report