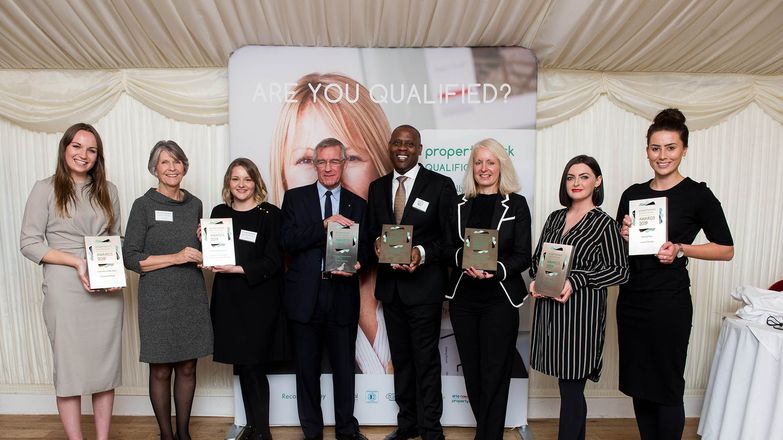 Industry-standard qualifications
Propertymark Qualifications are the recognised industry standard for entry to, and progression within, the professional sector, and the Awards, which are sponsored by MOL, are a celebration of the highest achievements among qualifications awarded between January 2019 and December 2020.
Both accessible and practical, Propertymark Qualifications has long been regarded as the leading vocational standard for the property sector.
Nominated categories
Awards will be made for learners nominated as outstanding by their colleagues and those with the highest marks across award levels in each professional discipline.
Propertymark Qualifications Awards nominations are welcome for Learner of the Year, Rising Star, and Employer Champion of the Year. In judging the categories, the panel will look for evidence of studies which has impacted the workplace or career development of the individual along with information about how achievement of the qualification has supported networking with colleagues and customer relations. Assessment will include additional marks for evidence of a true desire to improve knowledge and skills.
Candidates of the Year
Awards will be made for Lettings, based on outstanding achievement across candidates who completed any of Levels 2 and 3 (5 and 6 in Scotland) in Lettings, Inventory or Tenancy Deposit qualifications. The same award will be made across equivalent levels for those who studied Residential Sales or Commercial Sales qualifications.
An award will be made for the highest scoring candidate for Auctioneering Level 3 Awards.
New this year, as a reflection of the profession's appetite for Level 4 learning, an award will be made for the outstanding achievement within Level 4 qualifications across Sales and Lettings.
Alongside this, the Awards will also recognise outstanding achievement among Junior Estate Agent Apprenticeship candidates that have completed their end-point assessment through Propertymark Qualifications.
ARLA Propertymark Conference
Winners of the Awards will be announced at a prestigious evening ceremony on Monday 6 December 2021 at Excel London and the ARLA Propertymark Conference will take place on Tuesday 7 December.