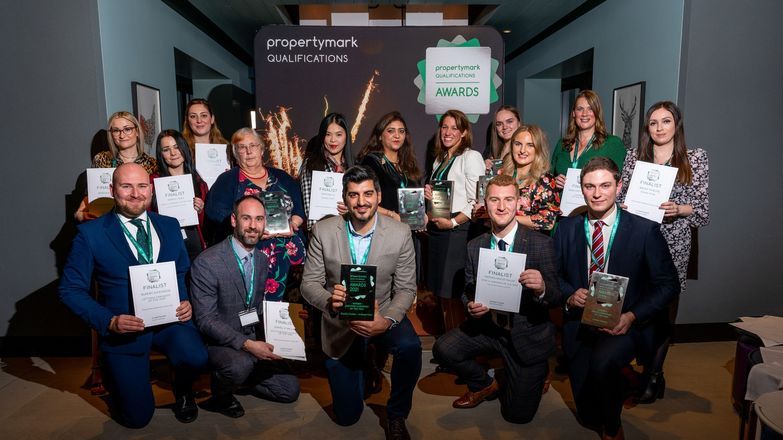 Learners, employers, training providers, and stakeholders gathered to congratulate finalists and nominees who have achieved or supported the achievement of one of the Propertymark Qualifications property-related qualifications.
Apprentices who completed their Junior Estate Agent apprenticeship assessments with Propertymark Qualification were also honoured this year, as well as those that achieved a Level 4 Certificate.
Award winners
Sales Candidate of the Year: James Cardon (Level 3 Sales)
Lettings Candidate of the Year: Poppy Field (Level 2 Lettings)
Auctioneering Candidate of the Year: Grace Julier (Level 3 Chattels)
Level 4 Candidate of the Year: Naomi Murdoch (Level 4 Lettings)
Apprentice of the Year: Darcey Halliday
Rising Star: Puja Mehra
Employer of the Year: Charlie Perdios from Anthony Pepe
Learner of the Year: Eva Ferdinando
Lifelong Achievement: Pauline Makepeace
Property industry qualifications
Despite the effects of the pandemic, lockdowns, and furlough more than 2,300 learners have completed a qualification since the last Awards in 2019, with over 12,000 signing up.
In addition, there have been over 270 apprentices registered for their end-point assessment and over ninety remote apprenticeship assessments conducted since the service was launched in July 2020. This year to date there has also been received over 375 registrations for a Level 4 qualification.
Specialist, regulated property qualifications which you can complete flexibly through distance learning or with additional support with a Propertymark Qualifications recognised centre.
Learn in a way that suits you. With a wide range of online, interactive and printed resources from experts available, support your study of Propertymark Qualifications perfectly. Find out more here.