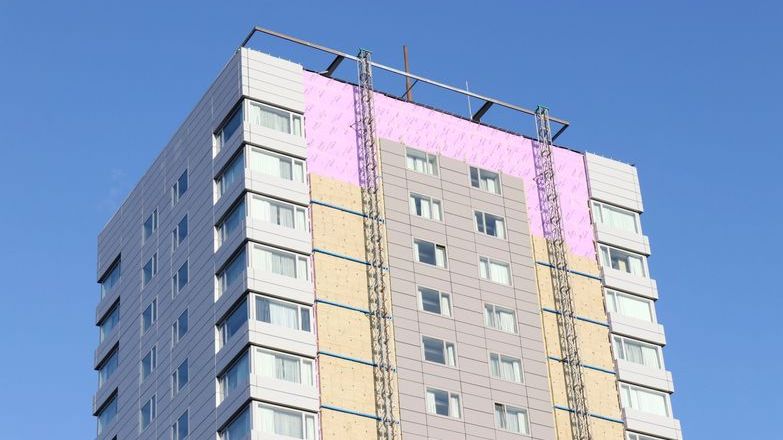 A report by the National Audit Office (NAC) revealed that 456 buildings were identified within the scope of the Programme (18 meters and above, with unsafe ACM cladding systems) with 208 of those in the private rented sector. The investigation found that only 149 have been fully remediated, over 307 had not been fully remediated and 167 with no work started.
All buildings that fall within the scope were investigated to make sure they have been correctly identified and are being fully remediated. The report also looked at the pace in which the buildings are being managed and which buildings qualify for remediation funding, as well as assessing risks outside the scope.
Pandemic halting pace
Early signs show the effects of COVID-19, and public health measures taken to limit its impact have slowed down the recent pace of remediating unsafe buildings. At the end of March, MHCLG issued a statement that remediation work is critical to public safety and sites should continue work if it can be done so safely. At the time of publication of the report, June 2020, the impact this situation will have on the forecast dates for the completed remediation of all buildings within the Programme had not been assessed.
Steps taken to quicken pace
In December 2019, the Secretary of State wrote to all owners of high-rise buildings from all sectors with unsafe ACM cladding that had not completed remediation to encourage pace and remind them of the possibility of enforcement. In February 2020, MHCLG 'named and shamed' owners of private sector residential buildings that had not put remediation plans in.
Relevant housing developers and building owners have had communication to reinforce the need for pace, with The Permanent Secretary has also hosted a meeting with local authorities, who are vital to supporting remediation, to reiterate the need for pace, share concerns and highlight good practice.
Legislation
It is fully expected that the upcoming legislation will help enforce the remediation of unsafe cladding. Among the measures is the Fire Safety Bill which was introduced in March 2020 and specifies that the Fire Safety Order applies to external cladding. This seeks to give confidence to fire and rescue authorities in using their enforcement powers in relation to the external wall systems of high-rise residential buildings.
Estimates of completion
The estimated completion of full remediation in social sector high-rise buildings with unsafe ACM cladding will be by mid-2022. More than 95 per cent of those buildings to be fully remediated by the end of 2021 with similar estimates in the private housing sector. This is later than the expectation that was set in July 2019 by the then Secretary of State.
Private-sector funding
In May 2019, it was announced a further £200 million for the remediation of equivalent buildings in the private leasehold sector will be made available, with the intention to accelerate remediation in the private sector. It also supports the position of ministers, that leaseholders should not have to meet the large and unexpected costs of remediating unsafe cladding. 94 eligible private sector projects are expected to be paid for by MHCLG out of the 208 identified. Owners of 84 private sector residential buildings have committed to funding the remediation works themselves, with a further 23 self-funded through accepted warranty claims. Seven buildings have not agreed a funding route yet.
Propertymark's work on cladding and leasehold
Propertymark reported the effect of COVID-19 on leaseholders as they were forced to pay for waking watches and other security measures during the crisis on buildings where remediation work wasn't complete. The introduction of the Building Safety Bill and action on mortgages for properties in high-rise residential buildings was announced in April 2020. Propertymark has long campaigned for leasehold reform, as many leaseholders have found themselves 'mortgage prisoners' with lenders refusing to value flats with unsafe cladding.