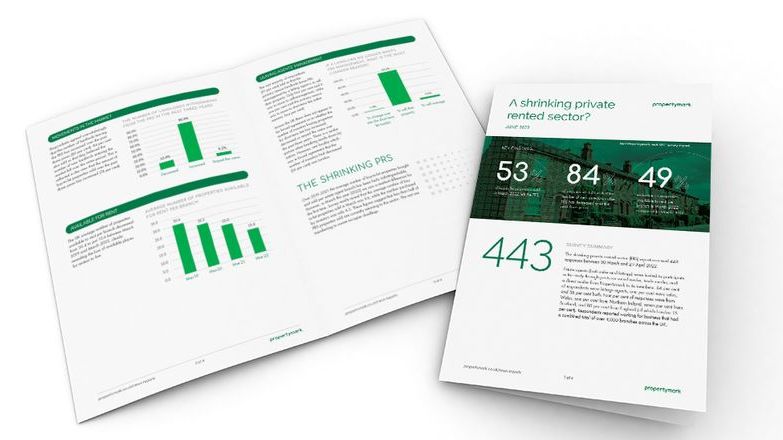 Propertymark member agents were surveyed between 30 March–29 April 2022 and the report was featured on the BBC News channels. 64 per cent of respondents were lettings agents, one per cent were sales, and 35 per cent both. Respondents reported working for businesses that had a combined total of over 4,000 branches across the UK.
Propertymark's research presents a worrying picture for private renters
The number of properties available to rent has been diminishing with a large portion of landlords choosing to sell their properties. A lack of property is the root cause of rent increases and rising figures on social housing lists. Our qualitative research shows that the most common reasons for landlords to choose to sell their properties and no longer provide homes are risk, finances, and viability.
Movements in the market
The data shows the number of properties available to rent through letting agents in the month of March halved between 2019 and March 2022
During this period 84 per cent of landlords who removed their property from the rental market did it to sell. Over half of the rental properties sold in March 2022 alone did not return to the PRS.
91 per cent stated the primary reason landlords leave PRS management by a letting agent is to sell their property. 53 per cent of buy-to-let properties sold In March 2022 left the PRS and there was a 49 per cent reduction in properties available to rent per branch in March 2022 compared to March 2019.
People hoping to find a property to rent are going to ever greater lengths to secure a home. As well as having to put up more cash in advance, they're offering landlords CVs for their children and photos of their well-behaved dogs. That's because a shortage of available homes is pushing up monthly rents, deposits and leading to bidding wars.
BBC report tenant bidding wars
Propertymark Regional Executive Adam Kingswood, the owner of Kingswood Residential Investment Management, appeared on the BBC News report discussing the market compared to previous years – stating that more housing is needed to meet the demand and he's never known the market to behave like this in two decades.
The Park area of Nottingham, one of the most popular property spots in the City, where Kingswood manages properties, has seen a property listed and viewings stopped after a few hours. The majority will want the property and in most cases, the landlord has a choice of what tenant they want to go with. This leads to a sort of rental beauty pageant, with desperate renters vying to be chosen by landlords.
Download the full report