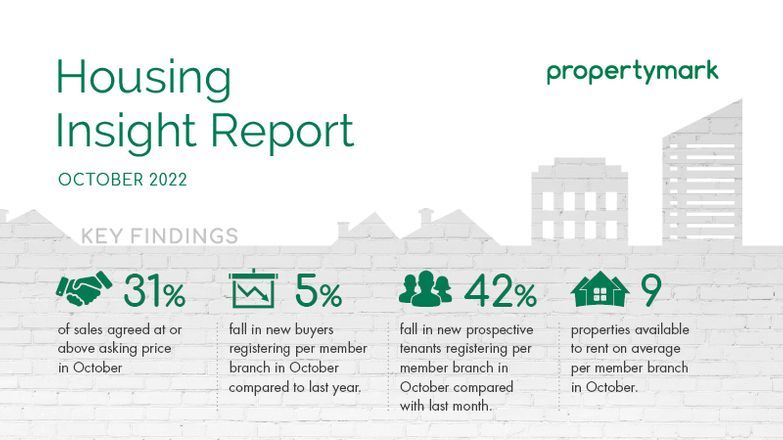 Sales
The number of new applicants registering per member branch and the number of viewings per branch has fallen slightly in October when compared with September, while the number of new properties put up for sale also dipped. In a month that saw average two-year fixed mortgage rates rise over six per cent as a result of Truss' economic policies, demand pulled back.
It is unsurprising that the number of people looking to sell their property also fell during this period of uncertainty. With a new Prime Minister and Chancellor at the helm, along with statements form the Bank of England that base rates will not rise as high as expected during October, industry professionals are hopeful to see increased activity into November.
Demand from house hunters softens
The number of new buyers registering per member branch dipped to 64 in October—down from 83 the month before. Still, this number is very close to last October's figure of 67 and represents only a five per cent drop year-on-year.
Lettings
Pressure on rents easing
The average number of new prospective tenants registered per member branch in October fell by 42 per cent on the month before. This drop in demand will reduce pressure on rents, with another fall this month in the number of agents reporting month-on-month rent price rises.
An average of 85 new applicants were registered per member branch in October. This number is down significantly since last month's high of 147 (down 42 per cent); however, it is still above the pre-pandemic average for October of 72 (2018–2019).
Download the full report