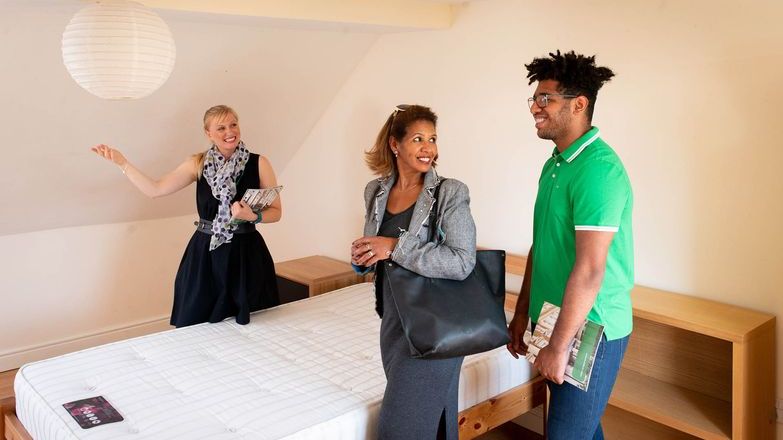 Landlords and tenants may not see everything that agents do, but certainly see the consequences if any of the myriad tasks' agents undertake are not done properly. With the heavily publicised horror stories, a few bad apples shouldn't tar the rest of a profession that requires dedication and skill.
Public perception
Top professionals in any field put in many hours of work that nobody sees to achieve the result they are judged on
Many jobs look easy from the outside. Professional footballers do a few training sessions a week, turn up on a Saturday and get paid a fortune; newsreaders earn a vast sum for reading an autocue; letting agents do a couple of quick viewings when a property is empty and take a healthy cut of the rent every month in return for some paperwork.
Of course, the truth is not nearly so simple. Top professionals in any field put in many hours of work that nobody sees to achieve the result they are judged on. Letting agents are no exception—and a good letting agent is one not heard about much. Many misunderstandings and mistaken beliefs are rooted in ignorance, and public perception of letting agents is no exception. Stories are only shared when things go wrong, not when they go well.
The role of a letting agent
Relationship building
A good letting agent can, and does, take care of just about every situation imaginable when it comes to managing properties. According to Sophie Lang, Director of Lewis Haughton Wills, and ARLA Propertymark Regional Executive, who has been a letting agent for 17 years – the profession involves being a social worker, mediator, counsellor, and advisor, to name but a few.
Professional agents are human and know that tenants are more than just a collection of answers on an application. Effective agents build relationships with prospective occupants to put the right people in the right properties.
Having taken the time to get to know a prospective renter, a good agent may ask a landlord to amend their normal conditions, such as a no pets requirement, to place someone they know will be an excellent tenant in a property. While an agent's client is the landlord, they have a duty of care to tenants, and placing the wrong tenant in a property is in nobody's best interests.
---
EXAMPLE: A tenant was looking for a property due to his landlord selling up. He had a dog, a good income, and good references. The agent had a good feeling about the tenant who was struggling to find a home. In the current market, there are around 20 applications per property, which means people with pets are low on the priority list. After a discussion with a landlord who had reservations about pets, the tenant agreed to take out a contents policy to cover pet damage and the agent offered to conduct additional property inspections. The landlord agreed and the tenant cried when he was told he had the property.
---
Legislative knowledge
With constantly changing legislation, keeping on top of the current position is not straightforward. Good letting agencies ensure their staff are always up to date and bear the cost of frequent training updates to do so, lifting another burden from landlords.
When a prospective tenant is matched to a property, references and financial checks need to be completed carefully and thoroughly, and legal paperwork, inventories and deposits properly managed to meet statutory obligations and ensure that both landlord and tenant have clear responsibilities and appropriate protections.
Helping tenants with their paperwork and understanding their obligations, recognising that it may seem daunting to someone not used to contracts and legal speak is all part of the process. This support does not necessarily stop when the tenancy agreement is signed.
When all this is professionally done, both landlord and tenant may only see the final product of a huge amount of effort. But a mistake in a legal document or a corner cut to save a bit of time with the paperwork can cause huge problems and expenses for all involved.
Ongoing support
Agents are the first port of call when there is a problem and respond to helpline calls 24-hours\day. Even when the problem is more routine, a good agent will know how to suggest possible fixes, so the landlord only incurs a call-out fee for a tradesman where necessary.
---
EXAMPLE: Tenants called out of hours emergency line at 1 am about water pouring through the ceiling due to a burst pipe. The agent video called the tenant to advise how to get the water isolated quickly and therefore limit the damage. Responding to the out of hours call resulted in less damage and frustration.
---
Mediation
An agent may have to mediate between either housemates or couples who have fallen out to ensure that the rent continues to get paid and the tenants reach an agreement to move forward together. Many landlords may not be happy sorting this type of scenario, or what the rights are regarding surrendered tenancies, refusals to pay rent, or broken joint tenancies.
---
EXAMPLE: A couple had a nasty break-up. Both moved out and refused to pay rent. We met with both parties separately and negotiated a surrender of the tenancy and the correct procedure. This meant that they had fewer arrears, and less stress for them as individuals, plus, the landlord had no interruption to income.
EXAMPLE: One of the sharers of an HMO of five moves out after an argument and stops paying rent. All tenants are jointly liable on one tenancy agreement. We met the group to explain their responsibilities. We negotiated and chatted with the parents who were guarantors, so all parties knew their obligations. This meant no arrears and happier tenants.
---
Support with rent
With the current pressure on the cost of living, agents will have an even more important role to play in securing the best outcomes for tenants and landlords when circumstances change. As well as understanding where tenants could get help from Government or local schemes as well as keeping communication open between landlords and tenants to avoid disputes.
---
EXAMPLE: A good tenant lost her job via redundancy and was distraught about rental payments. We advised her what help she could get from the local council and helped with paperwork as she was a more vulnerable adult. The landlord ended up with guaranteed rent from the council and kept a tenant who kept the property very well.
---
Examples attributed to Lewis Haughton Wills