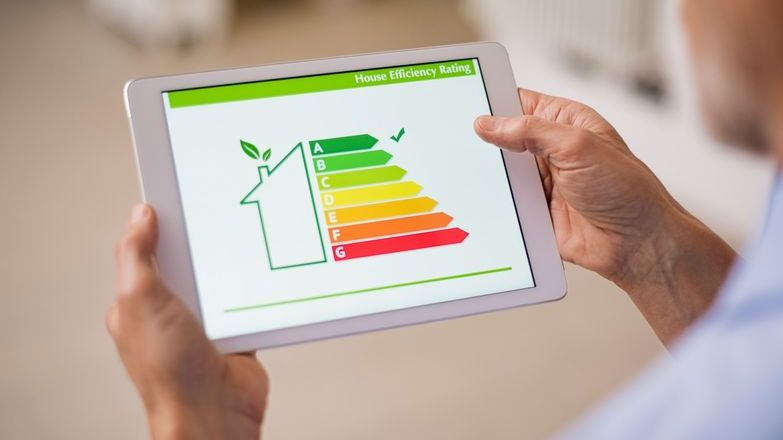 Panel:
Gavin Dick, NRLA Local Policy Officer
Jonathan Werran, Localis Chief Executive
Timothy Douglas, Propertymark Policy and Campaigns Manager
The session highlighted worrying statistics provided by Gregory, which showed that while 90 per cent of homes in England use fossil fuels, the nation is only currently achieving less than 10 per cent of targets set by the UK Government to reach net-zero by 2050.
On top of this, the challenge that lies ahead for landlords was summed up in one simple statistic: two-thirds of the housing stock is currently expected to achieve an EPC rating of D or lower, with the Government's expectation for this to be raised to a rating of C by 2025.
Lagging behind report
Jonathan Werran summarised the recent report conducted by Localis, which shone a light on the role of local authorities to help landlords achieve targets set by the central UK Government.
The report reiterated how the UK Government's failure to factor in huge regional variations in property prices when incentivising homeowners and landlords to retrofit their properties to meet national net-zero targets could risk seeing a reduction in the quality and availability of housing stock.
Concerns over the affordability of retrofitting properties were also raised, with the panel explaining the need for the UK Government's serious consideration to the impact of regional differences in house prices and dwelling stock when retrofitting properties to meet decarbonisation targets.
This discussion showed the importance of councils working together as an independent 'one-stop-shop venture as they are in a better position to act on retrofitting at an aggregated scale. It was also agreed that local authorities are also better placed to understand the personal circumstances of landlords and provide guidance where needed.
This report raises concerns over the affordability of retrofitting properties and highlights that residents in the North of England will be the hardest hit. Failure to factor in huge regional variations in property costs when incentivising homeowners and landlords to meet national net zero targets risks deepening economic inequality.
Net-zero
The target of net-zero emissions by 2050 was passed into legislation with little public notice, Gavin Dick pointed out, yet it is the law. With interim targets to be met in the meantime, ensuring landlords know exactly how the changes should be affecting them, as well as elements driving UK Government policy. These factors are:
fuel poverty
reducing energy bills
lowering demand on the rid
economic growth
transitioning to a low carbon future
Again, the role of local authorities was an area of focus, with the NRLA asking for councils to properly plan for the ideas of a district heating system (where and how would people plug into this?). Dick also questioned the plan for External Wall Insulation, terrace housing plans, and what support there would be for hard-to-reach properties.
The UK housing stock is amongst the least energy efficient in Europe and the Committee on Climate Change says that energy use in homes accounts for about 14 per cent of UK greenhouse gas emissions. Non-domestic buildings account for around one-third of UK emissions from the building stock.
Incentivising landlords
Propertymark has been calling for long-term goals to be set by the UK Government which implement incremental targets which must be both realistic and achievable — this was reiterated by Timothy Douglas.
The up-hill battle for landlords was focused on as new EPC and minimum energy efficiency standards (MEES) were discussed, drawing questions such as: "how realistic is it that landlords will be able to reach these standards" as well as "where would the money come from to do so?".
A fair question, as landlords are only able to potentially benefit from a small, very exclusive number of funding options which — as highlighted previously by Propertymark — have historically fallen short of the needs within the PRS.
The UK Government's latest proposals for EPC band C presents a much tougher challenge for many properties across the country, without fully considering the range of property types in PRS. Landlords across the country are being presented with financial and practical challenges.
Douglas reiterated in Propertymark's representations to HM Treasury our call for the UK Government to invest in supporting landlords to make energy efficiency improvements. This can be achieved by reintroducing an enhanced Green Homes Grant Voucher Scheme and ensuring that policies extend beyond a one-size-fits-all approach.
The 2021 Autumn Budget will be delivered on October 27 alongside a three-year spending review and HM Treasury's call for representations to be considered as part of its decisions closed 30 September 2021.