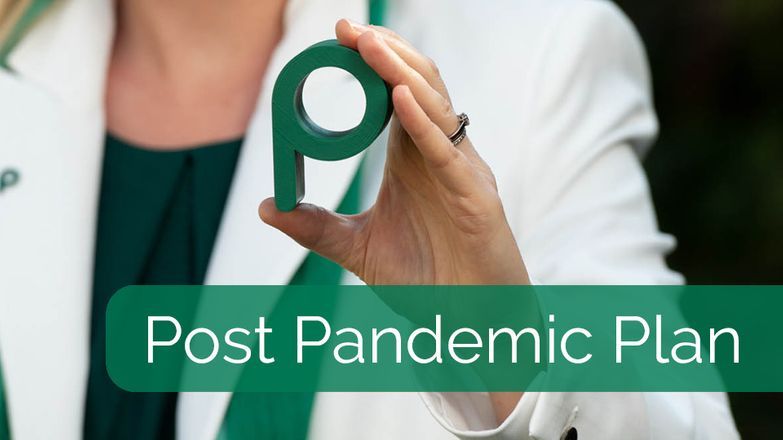 While some are planning to return staff to office premises as soon as working conditions meet safety guidance, particularly with the volume of portal traffic and enquiries that many branches have received, agencies should be considering all relevant factors before taking any steps.
The property sector is one of the very first areas of business to return, this is right due to the importance of housing and the role that it plays in the economy, but if staff are not protected and Government guidance is not followed, the development could be retracted.
Ensure the latest Government guidance for employers, for home moving and for lettings is followed.
Throughout all of this, the safety of staff, clients, and communities must be paramount and if agencies are in any doubt whether work can proceed safely, everyone involved must stop and consider their actions. Propertymark has created several Post Pandemic Plan articles covering issues including safety and best practice in order to support the sector, ensure that you are familiar with all of the guidance available.
Furloughed staff
The Coronavirus Job Retention Scheme (commonly known as the furlough scheme) has allowed employers to delegate responsibility to the Government for paying staff at 80 per cent of their salary to a maximum of £2,500 per month and this has provided breathing space to many businesses over the last couple of months. The furlough scheme, which was originally scheduled to finish at the end of June is extended until the end of October. There will now be at least two phases:
Until July 31 furloughed workers will continue to receive 80 per cent of their current salary, up to £2,500 but must not work for the employer.
From 1 August to October 31, the scheme becomes more flexible. Workers will continue to receive 80 per cent of their salary subject to the cap but employers will need to share the burden of paying salaries with the Government. Employees will be able to work part-time during this phase. The percentage division of the grant between the Government and employers during this second phase has not been confirmed but further details are expected to be published by the end of May.
Health and safety provisions
Agencies should carefully consider the likelihood of business returning to near normal trading conditions in bringing staff back, given that many clients are still dealing with the threat of the pandemic and the impact on changed circumstances. In many cases, this will lead to an increased need for house moves but bear in mind that an initial flurry of activity may taper off.
If a staged return is decided, consider what the optimum skill combination is, ensuring selected staff are not on the basis of any discriminating criteria and talk to staff and explain plans that are in place to protect the future of the business.
If now is the time to return staff back to the workplace, then a guiding principle should be that organisations can take care of employees and safeguard their health and well-being. Many employees will be concerned and anxious about being in the workplace or travelling to workplaces. They will want to know that retaining support for physical and mental health plus what the current thinking about flexible and remote working is. This should be at the heart of any decisions made.
Consider the following three suggested tests:
Is it essential? If people can continue to work from home, they must continue to do that for the foreseeable future. If they cannot work from home, is their work deemed essential or could the business continue to use the Government's Job Retention Scheme for longer, giving you the time needed to put safety measures and clear employee guidance and consultation in place?
Is it sufficiently safe? Employers have a duty of care to identify and manage risks to ensure that the workplace is sufficiently safe to return to. Employers should take their time with gradual returns to work to test health and safety measures in practice.
Is it mutually agreed? It's vital that there is a clear dialogue between employers and their people so concerns, such as commuting by public transport, can be raised and individual's needs, and worries taken into account. There will need to be flexibility on both sides to accommodate different working times or schedules as ways of managing some of these issues.
All workplaces need to observe the Government's social distancing guidance which seems highly likely to continue for some time to come. All staff who can work from home are expected to carry on doing so. As we are part of a sectoral return to the workplace, consider a detailed risk management approach to safeguard employees' health, and minimise the risk of infection. It's therefore essential that employers continue to base any plans for returning to the workplace on up to date Government and public health guidance in relation to COVID-19. The Health and Safety Executive will be conducting spot checks and has also published advice and guidance relating to COVID-19 on its website which may be useful when considering health and safety measures.
Review your workplace and consider:
Can staff maintain a 2m physical distance between each other?
How will you manage clients attending the offices, meetings, and other interactions?
Do you have communal areas such as canteens or kitchen areas? What measures will you put in place for these areas?
Should you consider staggering working hours so that not all staff are in at the same time?
All the key protection and hygiene measures will continue to apply to minimise the spread of infection, such as reminding staff about regular and effective handwashing and providing hand sanitiser. If premises have been closed for a period, carry out a deep-clean before reopening. Review cleaning arrangements, for example, ensuring all phones/keyboards, etc are wiped daily with anti-viral cleaner. Refer to the Government guidance for more information. Consider also what is appropriate personal protective equipment (PPE) including gloves, masks, or anti-viral hand gel. If you want people to wear gloves or masks, then you will also need to think about training and briefing staff on their correct usage – since both can be ineffective if used inappropriately. For more on this, see our Post Pandemic Plan guide on preparing your office to re-open.
Talking to staff
It is key to a successful transition that managers talk, consult, and listen to staff individually, backing up any important conversations in writing, this is particularly relevant where there are any changes affecting terms and conditions.
Conversations will allow you to learn about any individual circumstances and issues causing concern for example dependent children, vulnerable family members, dependence on public transport, or bereavement. Some individuals will be shielding themselves or those within their households and this will need to be taken into consideration in the role that they play in the coming weeks and months.
Communicate the practical measures you are taking to staff on a regular basis to help reassure them that their health, well-being, and safety is the top priority. Make sure employees are clear about what rules and procedures they should follow both in the workplace and at home, especially if they begin to feel unwell.
This is also the opportunity for staff to understand the steps being taken that affect their work and the expectations of them. The property sector is not returning to pre-Coronavirus processes, everyone's activities will need to change in response to new safe working procedures and it's vital that staff who are returning are clear on those changes. Staff must be consulted and involved in planned changes and it's really important to listen to their ideas and suggestions.
It will be vital to have a re-orientation or re-induction process for returning staff. One to one meetings are encouraged with every employee, where a key focus is on health, safety, and well-being. Managers need to have a sensitive and open discussion with every individual and discuss any adjustments and/or ongoing support to facilitate an effective return to the workplace. This is especially important for those who have been furloughed and should cover topics such as changes in company services or procedures, how specific client queries or issues are being addressed, or changes in supply arrangements, as well as any changes to their work duties or tasks.
It could be that some staff require a phased return to their full role, or want to discuss a new working arrangement, especially if their domestic situation has changed because of the pandemic.
Professionals across the sector were surprised how quickly the residential property sector returned to business and it is vital that managers remember this and apply as much flexibility as possible in employee relations now - failure to do so is likely to have a potentially irreversible impact on relations with teams going forwards.
Legal considerations
There are a few employment law and administrative issues to consider also.
For those members of staff, furloughed, don't forget to un-furlough them and write to them confirming their return to work date. Give staff a reasonable period of notice of requiring them to return to the workplace too. This is particularly important given that many people will have additional childcare or other responsibilities, which they may need to make arrangements to manage. Although some children may return to school from 1 June not all age groups will be covered initially. Therefore, consider what reasonable steps to take to be flexible during this period.
Ensure payroll staff or providers are aware that furlough has ended for these staff and they should return to full pay (taking into account the national minimum and living wage rates increases from April for any staff employed on those rates).
Even if the crucial health and safety aspects can be addressed and are confident people's health (some of which were covered above) can be protected, is it sensible to want all staff to return to work?
Would it be more appropriate to continue with some staff home working on a longer-term basis? If so, make sure a clear rationale as to why you need particular staff or roles to return physically is in place. Everyone's lives will have been severely disrupted by the pandemic. People's expectations around work, and how they fulfil their role and reconcile work and domestic responsibilities, could have changed dramatically. This is an ideal time for employers to think more creatively about effective ways of working, and harness more agile and flexible working practices to meet individuals' changing expectations. This approach could also help employers to develop more effective people management practices that are more productive for the organisation. This may require employers to review existing or produce new policies on flexible working.
This information should be taken as guidance and not legal advice, if you need further help employers can contact the HR Helpline on 0800 074 4317, making sure Propertymark members have their membership number to hand. Alternatively, you can contact ACAS on 0300 123 1100.
PROPERTYMARK POST PANDEMIC PLAN
Propertymark's Post Pandemic Plan articles support agents with their preparations to emerge from the Coronavirus lockdown and prepare them to maximise market potential, add value, and underpin their business.